Delicious!

Our family candy apple recipe is what keeps people coming back for our apples. Please visit our online store to try one.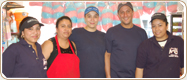 Our Team:
Our team at Williams Candy is dedicated to making the most deliciously fresh candy in the world. See why our customers keep coming back.

CandyTreats.com is the official website for Williams Candy of Coney Island. Williams Candy is located in the heart of Coney Island next to the world famous Nathan's Hot Dogs. Williams Candy has experience in the making of there wold famous candy treats for over 75 Years!!!
Please come and visit. We are located at 1318 Surf Ave, Brooklyn, NY - Coney Island. Please click here
for directions by car and subway.